Essential Oils For Back Pain
(Back pain front pain, these are some of the best essential oils to ease and get rid of aches and pains!)
Get ready to say Bye bye back ache! Essential oils have been used for decades, and aroma therapy has been used by many to natural heal the body.
Chronic pain effects 8 out of every 10 people. If you have not experienced any back pain in your life, here's how to avoid it in the future.
Essential oils have been used by many for pain relief, see how it can help you too.
As many as 84% of older adults living in nursing homes suffer from chronic pain. Chronic pain is different, the pain is persistent, complex, and often not associated with diagnose conditions. Frequently the pain is associated with stress and poor coping abilities.
Below are the top essential oils used for physical stress on the body as well as improving mental well-being.
Lavender hasn't become a top oil by luck, not only is this scent relaxing and calming.
Being incredibly versatile isn't too bad either, from daily skin care routines, to helping you get better quality sleep.
Lots of pain is caused by the stress either physical or mental. Getting better sleep and more relaxation can really lead to reduced back pain, stress, and aches you feel.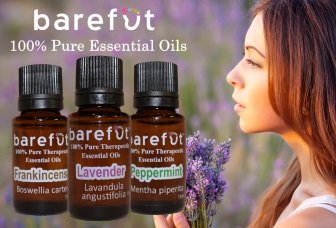 For those who love the proof in the pudding, here is a link to multiple studies they did. One in particular you will see was with patients in a nursing home, with lavender essential oil for pain relief of sub-acute and chronic lower back pain, participants who received a 3-week course of eight sessions of treatment showed a significant reduction in subjective pain intensity and an improvement in objective measures of physical functional performance, including lateral spine flexion and walking time.
Not only can this amazing essential oil help soothe muscle aches, reduce back pain, help reduce feelings of anxiety, reduce blood pressure, eliminate cramps, and so much more. It can even stimulate your sex drive by increasing libido.
Clary Sage is a great essential oil to help with tight muscles, that lead to back pain and even muscle spasms.
We all know love grows where rosemary goes 🙂
Not only is rosemary great for headaches, but rosemary is one of the best essential oils for back pain.
Popularly used for arthritis, and fibromyalgia.
Peppermint oil is great for energy focus, and an ideal essential oil for back pain.
Rapidly numbing the pain from a strain or spasm, while offering long term anti-inflammatory protection to the lower back.
Another key essential oil to end pain, is eucalyptus.
Extracted from the eucalyptus tree, this powerful warming oil has anti-inflammatory properties that contribute to pain relief.
---
Those are just a few of the most used essential oils to help aid in back pain relief, or any pain relief for that matter. 
Aromatherapy is a great alternative to man made medicine. Using essential oils from plants as therapy to heal pain, relief stress, and improve physical, mental and spiritual well-being.
Just remember not to expect ANY sort of therapy / healing machine, to INSTANTLY work. You didn't get the back pain overnight and you wont end it overnight (Unfortunately). It is a long journey to healing chronic pain and in many instances what we think is wrong isn't actually what is causing the pain! ( For example, you could be experiencing lower back pain thinking its your back, when really it could be the liver!) Just always make sure to listen when your body is aching, that is it's way of letting you know something is not right.